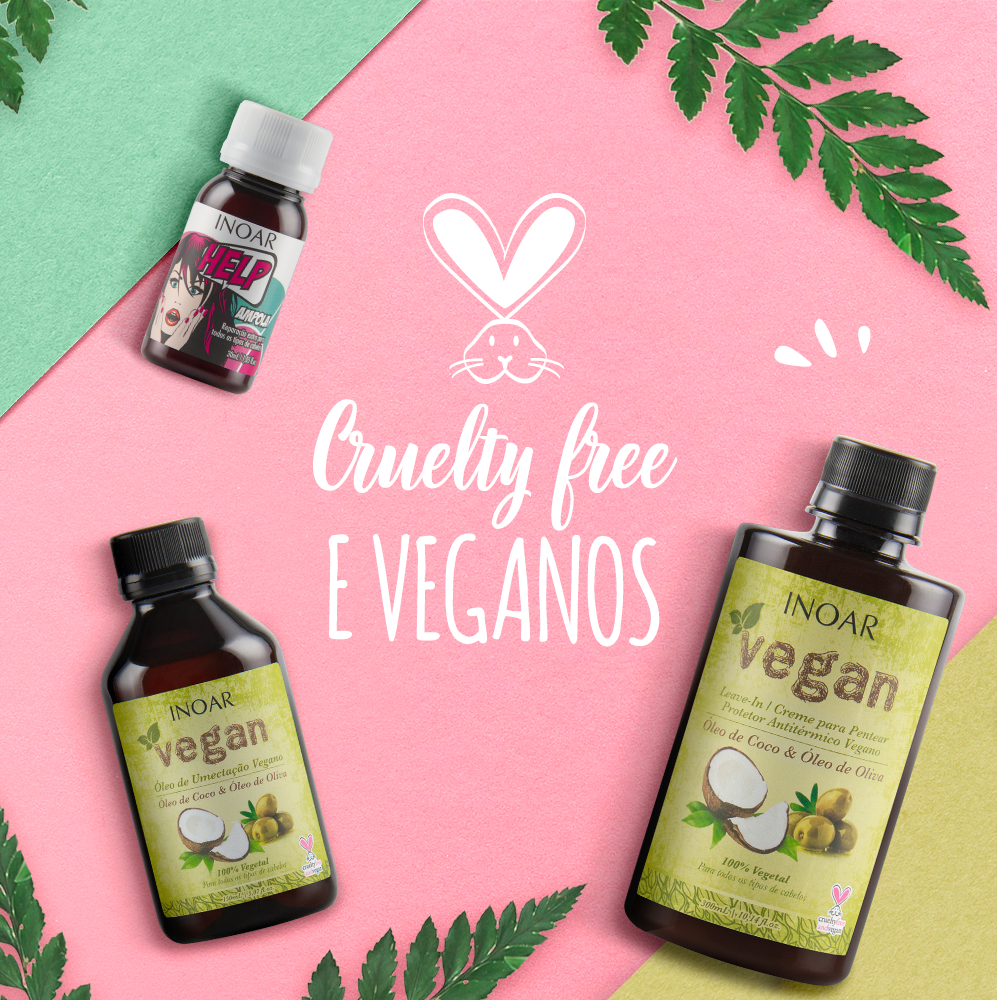 Vegan Cosmetics x Cruelty Free: Know the Differences
The twenty-first century brought a great change of principles to society. People are becoming more aware of the nature of what they consume. This makes them seek to understand the origin of the items consumed in the day to day. With this awareness, we highlight the vegan movement, potentialized in food customs.
The cosmetic world was not far behind and brought options to make vegan products. The market, today, offers a diversity of items that bring natural, vegan and cruelty free elements in its composition. But there is still great doubt in the definition of these denominations. And we are here to clarify them.
First, it is important to understand what each item is. So here we go:
– Vegan: vegan cosmetics are those that do not use components of animal origin in their composition.
– Cruelty Free: cruelty free cosmetics, as the translation itself indicates, are cruelty free. So they do not use animals for testing.
In this way, we can conclude that a product considered vegan, will also be considered cruelty free. But the opposite is not necessarily true. A cruelty-free cosmetic product does not perform its tests on animals, but may have components of animal origin.
To be vegan, the cosmetic is not enough to eliminate from its formulation animal components, but all those that, in some way, they produce. One example, which many cosmetics carry, is beeswax. Thus, to be a vegan, the product must dispense with anything of animal origin.
Another common confusion happens between vegan and natural cosmetics. The difference lies in the fact that natural products do not carry any chemical and synthetic components in their formulation. They are still a little harder to find on the market.
Therefore, it is very important to keep an eye on the composition of the products you buy. Inoar signals all items in your portfolio that have no animal components and do not test them with a rabbit's nest. Then, attention to the seals that the packages present. They facilitate understanding of the origin of that product.
In recognition of the testing method used by Inoar, the brand entered the PETA list of "cruelty free" companies. PETA, the People's Association for the Ethical Treatment of Animals, is a non-governmental organization founded in 1980, which has more than 2 million members and is dedicated to animal rights. It has as its motto: "Animals are not ours to eat, dress, use in experiments or for entertainment." Today, all Inoar products are not tested on animals. And the vast majority of the portfolio already receives the vegan seal. But to mark the company's major change of position in 2016, the brand launched the Vegan line to remind us that we can – and should – choose cosmetics that maintain a relationship of respect with nature and animals. Thus, Inoar continues to build a relation of respect with the animals and the place where it lives. Transforming your lines gradually and making them more natural and beneficial to you, consumer.