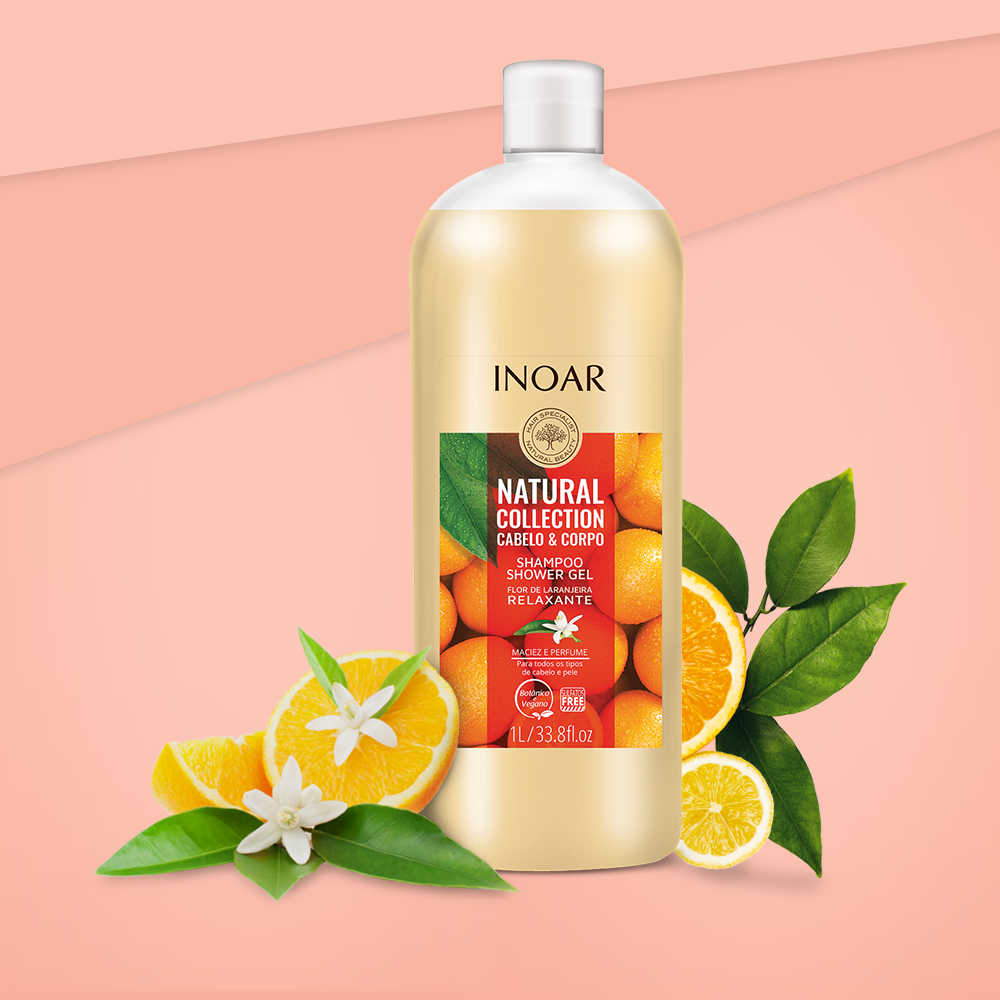 Learn the advantages of joining multifunction cosmetics
Multifunctional products gain more and more space in our routine. The idea of ​​decreasing the amount of items in your bathroom has led some people to more often look for products that can be used in a variety of ways and are beneficial to different parts of the body.
Although skin and hair have very different aspects, the similarity between the proteins that make up the two structures is great. Therefore, it is safe to say that moisturizers that benefit the skin may very well favor the hair and vice versa, just use the appropriate formulation.
Thinking of this multifunctionality, Inoar created one of these wild-type formulations and developed the Natural Collection Hair & Body. Its foam enriched with moisturizing agents acts as a medium cleansing shampoo for the hair, but also performs, very well, the role of Bath Gel and Foam Depilation and Beard. This all combined with an aromocological perfume (aramacologia brings positive feelings along with the perfume that we feel) that benefits everything around you.
The brand anticipated the multifunctional trend with the Kálice line. The line with 7 precious vegetable oils (jasmine, argan, myrrh, macadamia, ojon, sweet almonds and rosemary) is able to provide moisturizing, nourishing, repair and antioxidant function, softening, protective and emollient, with light touch and a exclusive. Its multifunctional oil can be used on the skin and hair for several functions: hair drying, waxing, body moisturizing, mixed to makeup or primer and make-up remover.
Recently, the multifunctional shampoo Kálice was elected by the editors of the American magazine Hola! as the best product in The Most Diverse category, receiving the Best In Beauty 2018 seal. Shampoo goes beyond cleaning and is capable of moisturizing, regenerating, softening and protecting all types of hair.
#Abstract Tip
To make your bath a true SPA procedure, make a strong basil tea, let it crush and pour over the body after bathing with Natural Collection Hair & Body. The blend of the aromas of tea and orange blossom present in the product are all about and leave you with a unique and energizing perfume.
Another tip is to combine the multifunctional oil and kálice mask after using Natural Collection Hair & Body. Perfumes complement each other and functions as well. Especially if your wires have already undergone chemical / discoloration.