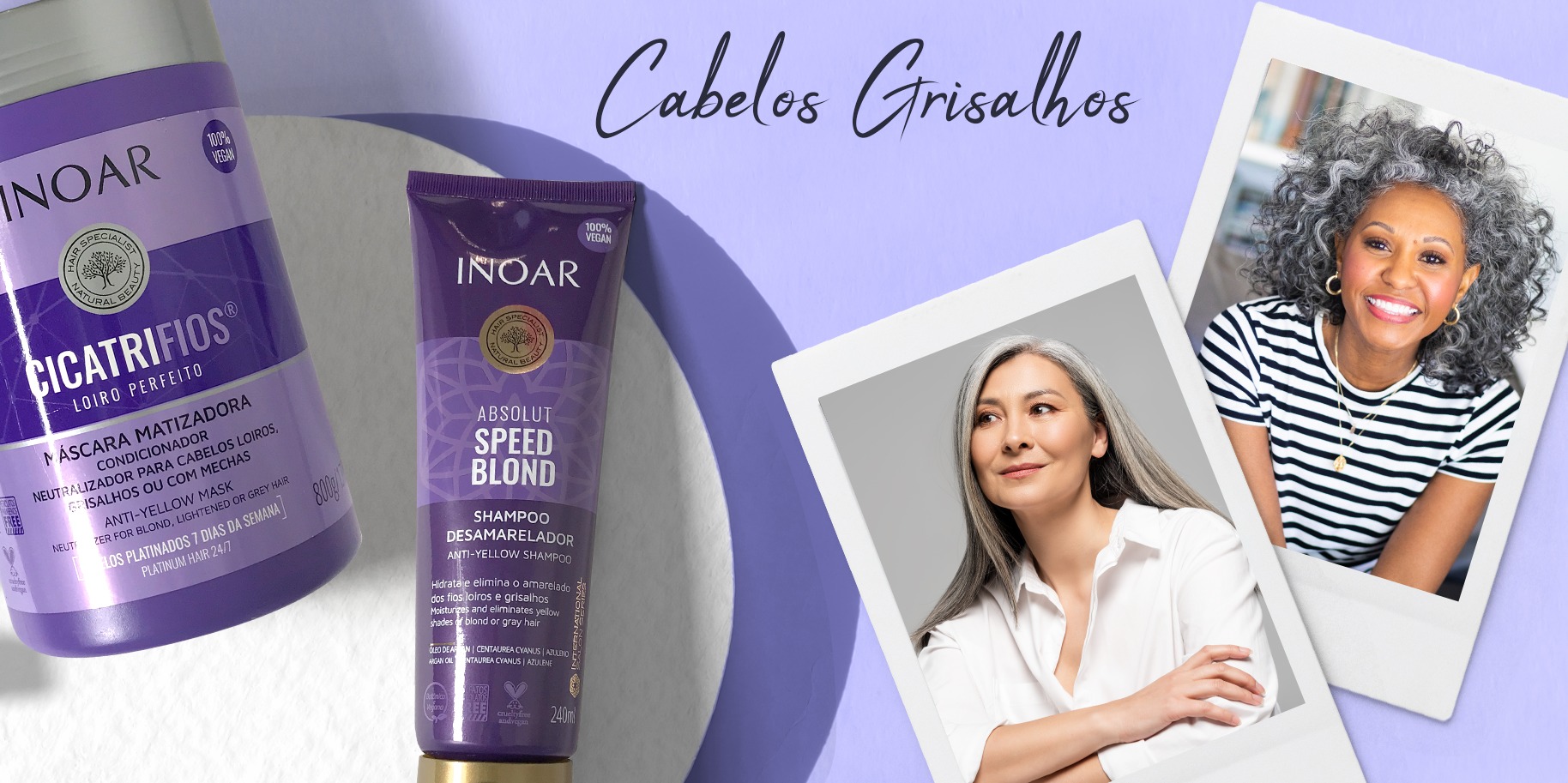 Gray hair: here's how to take care of the wires
We are a reality living self-care has been increasingly present in the conscious movements that break the beauty trend patterns on and off the internet.
Fighting a natural cycle of our body can cause several psychological problems such as anxiety and depression.
Most women dye their hair from the first gray hairs. Not that this is a problem. But starting a journey of self-knowledge can be a crucial factor in your life.
If you've decided to take on the gray strands, this tip is for you. Follow this content and learn how to take care of the wires in the best way.
Learn how to care for your gray or white hair
White hair requires special care to make it look healthy and elegant.
The many protection, protection and thermal protection. Check out the main care you should have with gray hair.
Wires cleaning
The reduction of the hair's natural melanin, the strands much more make and brittle. Therefore, it is very important to choose natural shampoos and conditioners with vegan, low poo and salt-free ingredients.
A good tip is Inoar's Mais Amor Menos Sodio line, which has Tribulus Terrestris, a herb rich in Vitamin C and a source of saponins and Banana Flower Oil, a natural source of power, promoting cleansing the scalp for the health of your hair, leaving it loose, soft and shiny.
Don't skimp on hydration
Within the hair program, the moment to hydrate the hair needs to be present. White hair needs masks, serums and moisturizing creams. That's because wires, because without wires, they are exposed to pigments and can treat them.
In the daily routine, hair oil helps to give extra shine to the hair. Therefore, ingredients such as argan, aloe vera and shea are great allies.
The tip is Inoar's Argan Oil System Line. It has beautiful functions that transform into fragile or dry wires, with a moisturizing appearance.
The shampoo, conditioner, mask and leave-in restore softness and treat the hair, in addition to argan oil, the first national oil that reduces frizz and leaves hair much more hydrated.
Use toning products
White hairs can turn yellow or function properly by contacting them. Therefore, toning products are the best options.
These products come on the market with shampoos, crescents, masks and some lines even leave-in, in conditioners that yellowish gray hairs.
Inoar's Speed ​​Blond line for blonde and gray hair contains antioxidant actives that hydrate and revitalize the hair's natural color.
Its exclusive formula with argan oil and balanced pH gradually corrects or yellows the hair, providing intense shine, shine and softness to the hair fiber.
If you want to have even more options for quality products, the Cicatrifios Loiro Perfeito line is a neutralizer for blonde, gray and streaked hair.
Along with hydration and nutrition, the tinting is from the processing processes for the maintenance of yellow hair, canceling the neutral and recovering the color aspect.
The line Cicatrifios Loiro Perfeito acts on the correction of the yellow of the wires, from the first use.
Its exclusive formula with Rejucomplex3, Centaurea Cyanus and Azulene (botanical ingredients with purple pigments) and balanced pH eliminates the devitalized look, reinforces the hair tone and deeply moisturizes, leaving the hair formula uniform and with intense shine with each use.
Now that you know how to take care of gray hair, it's time to take on the color, keeping your hair hydrated and with the shine you deserve.
Did you like our content? Then follow our social media and stay on top of all the news from INOAR!