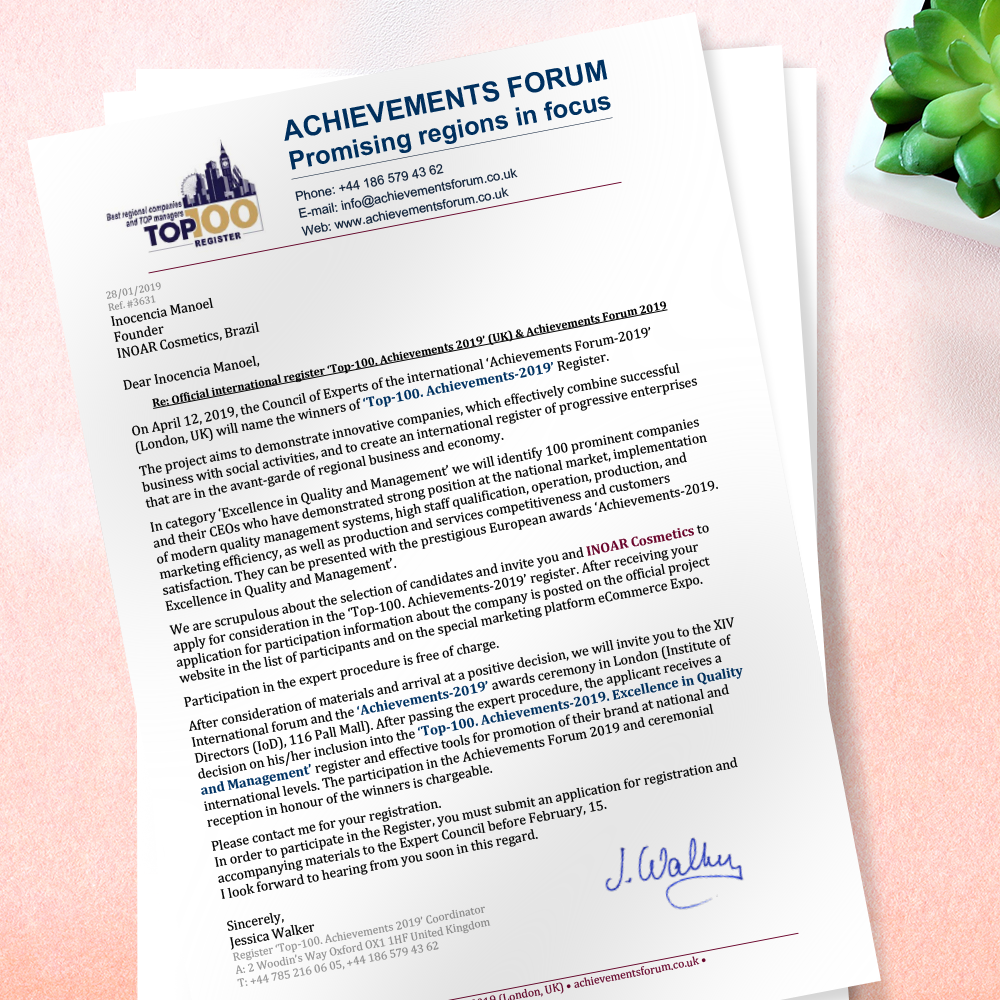 Inoar Cosmetics parmi les 100 meilleurs
Inoar, a Brazilian cosmetics company, which exports to over 40 countries, was nominated for the Achievements Forum's Top 100 Achievement Award 2019 and was announced as the winner on February 21.
The Achievements Forum is made up of council that elected the 100 most innovative companies, which effectively combine successful business with social activities. Inoar was chosen for its modern quality management systems, high qualification of personnel, operation, production and marketing efficiency, as well as competitiveness of production and services and customer satisfaction.
Founder of the Solidarity Beauty social project, Innocence Manoel, credits this important recognition to the way human issues have been worked through the project: "Wherever we go, Solidarity Beauty is consecrated. People have a real passion for Inoar because of its history, for what we do for the sake of others. These are values ​​that are not measured, "says the businesswoman, who is co-founder of Inoar and Director of Marketing, Creation and Development.
The ceremony will take place on April 12 at the Institute of Directors in London.
About Inoar
Inoar Cosméticos brings the essence of its founders in its DNA: the creation of innovative products through the unique look of Inocência Manoel, Director of Marketing and Creation, and the administration of Alexandre Nascimento's businesses. Inoar a brand of cosmetics inspired by various types of people, with innovation, cutting edge technology and the know-how of those who understands the needs of professionals and end consumers.
Inoar Solidarity Beauty Project
Founded by Inocência Manoel, Beleza Solidária is an Inoar brand project created to empower people from different communities in Brazil and abroad, and is also focused on the recovery of women's identities and their empowerment. With courses offered to the low-income population and diverse itinerant actions, the initiative aims to offer society a path to entrepreneurship.
Inoar
www.inoar.com
Facebook: Inoar Brasil
Instagram: @InoarBrasil | belezasolidaria.inoar
Tel .: (11) 4135-4555