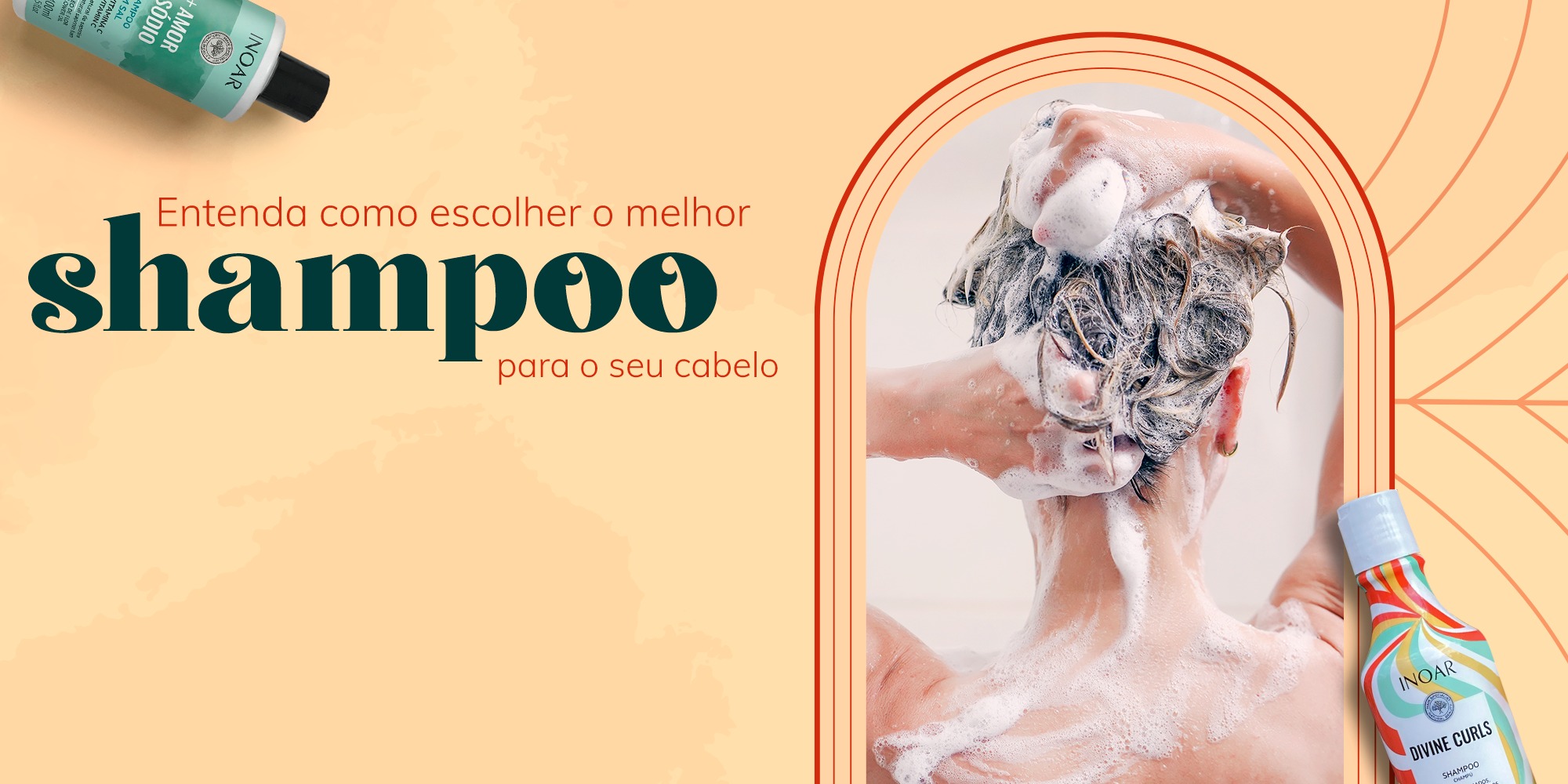 Understand how to choose the best shampoo for your hair
To have silky, healthy hair there is no magic. Regardless of your hair type, whether straight, curly, frizzy, oily or dry, some rules are essential for hair care.
In addition to performing regular hydration, the replacement of nutrients in hair that undergo chemical processes and that suffer aggressions caused by flat iron and curling iron is a process that must be performed frequently. Therefore, choosing the correct shampoo is essential.
So, now you will understand which shampoo is right for your hair type and you will know how to make it healthy and shiny.
What is your hair type?
Each type of hair requires different care so that the strands remain healthy. That's why choosing the right shampoo for your hair is crucial to having the strands you want. Understand:
Straight hair
The ideal shampoo for this type of hair is one that provides a gentle cleaning and controls oiliness. If your hair is straight, but with dry and dry strands, the most suitable are nutrition and hydration treatments.
If your hair is chemically treated, opt for a specific shampoo, but one that does not have aggressive formulas and that take care of the strands density, avoiding brittle and porous ends, as is the case with Inoar's Powder Progress.
The line has Shampoo and conditioner formulated on the basis of powerful and high-tech actives such as polyquaternary and creatine, providing the recovery of damaged strands and protein mass and D-Panthenol, which reduces the formation of split ends, leaving your hair beautiful and smooth for much longer. Indicated for chemically treated hair, it maintains the health and color of the strands between the progressive brushes.
Natural straights or smoothes also need frizz care. Therefore, you need to choose the best option, such as Argan Infusion Smooth and Silky.
The Argan Infusion Smooth and Silky line is formulated with argan oil, jasmine and panthenol, which deeply hydrate, regenerate and promote anti-frizz wetting, aligning the hair cuticles for an increasingly smooth result. With balanced and controlled pH in sulfates.
wavy hair
Wavy hair can vary a lot depending on the type of finish you make. If you like more volume, products that loosen the hairs from the root are the best option. Plus, a conditioner capable of moisturizing waves and curls is also a great way to make your hair look just the way you want it. Finishers that give that extra shine to hair are essential.
See some Inoar options to leave your curls defined, healthy and with incredible curves:
Herbal Solution – Based on herbal extract, Herbal Solution brings a neutral formula, for daily use, for all hair types. Its ingredients promote cleaning and purification of the scalp and strands without drying out. Inoar Herbal Solution can be used even on chemically-containing hair without damaging it. Helps balance hydration, maintaining hair health, lightness and softness.
Rejutherapy – With a blend formulated from Hyaluronic Acid + Zinc + Biotin + Vegetal Collagen, Rejutherapy® provides 5 Great Benefits for the beauty of
your hair: fills the hair fiber, regenerates the threads, seals cuticles, reduces breakage, contributes to growth.
More Love, Less Sodium – More Love, Less Sodium is formulated with Tribulus Terrestris, a herb rich in Vitamin C and a source of saponins, and Banana Flower Oil, a natural source of potassium. This combination replaces sodium and promotes cleansing of the scalp, offering more health to the hair, leaving it loose, soft and shiny.
Curly hair
Curly hair has some variations and they receive nomenclatures: 4a, 4b and 4c. 4y curls have a spiral shape with more defined curls. 4b have narrower, tighter curls. Hair classified as 4c, on the other hand, has tighter spirals.
For each type of curly hair, there are specific cares, as they tend to be drier at the ends.
Hydration and nutrition is a process that must be performed frequently on frizzy hair. Shampoos should be applied to the roots so as not to dry out the ends.
Curly hair
Curly hair is classified as 3a, 3b and 3c. The main difference between them is the distance between one lap and another. But they all have whorls of curls.
It is very important that you bet on specialized products for curls, keeping your hydration up to date and defining your curves.
A powerful leave-in is also able to texture the hair, as well as heat shields to prevent heat damage.
Divine Curls – With 100% vegan formula, Inoar Divine Curls is a line created especially for those with wavy, curly or frizzy hair. The products clean and moisturize the threads without weighing and without accumulating components, maintaining the effectiveness of cleaning, nutrition and health.
Memory of curls for hours, thanks to an active extracted from the seed of golden flax, with flexibility and no frizz.
Afro Vegan – Vegan product with shea butter, a powerful moisturizer that leaves hair manageable, and castor oil, rich in vitamin E, minerals and with anti-bacterial properties, which nourishes, hydrates, restores nutrients, seals the hair cuticles and leaves hair soft and shiny, also stimulating curl growth.
Meu Cacho, Meu Crush – With ingredients that penetrate deep into the hair fiber, restoring the strands. From pre-shampoo to styling cream, the products were created for hair of all curvatures, valuing each one of them. Released for Low Poo, No Poo and Co Wash techniques.
Botanic – The line contains castor oil in its formulation, an ingredient famous for helping in the healthy growth of hair, thanks to its antioxidant properties, omega 6 and omega 9, in addition to vitamin E and macadamia, which helps protect the scalp against rays UV, wind, pollution, flat iron, dryer and chemicals. Ideal for all hair types, the Botanic hairline protects and restores moisture and shine to damaged strands.
Dry hair
Dry hair needs a lot of hydration so that the strands regain their shine, removing the opaque aspect. Therefore, in addition to shampoos for this type of hair, moisturizing masks are essential, as well as moisturizing ampoules and moisturizing conditioners. Some Inoar products ideas for dry yarns:
Argan Oil System – Powerful source of hair beauty. Its multiple moisturizing and disciplining functions transform fragile or dry strands into silky ones, with a healthy appearance and a delicious touch. Shampoo, conditioner, mask and leave-in return softness and treat all types of hair. The line also has the first national argan oil, which reduces frizz, leaving the strands much more hydrated.
Vegan – The products of the Inoar Vegan line are formulated with vegetable, coconut and olive oils, which penetrate deep into the hair fiber, taking care of the hair with maximum performance that hydrates, provides softness and intense shine.
chemically treated hair
Chemical procedures can damage the threads significantly. Therefore, care needs to be redoubled. If your hair goes through processes such as coloring, the ideal is to have a shampoo aimed at maintaining and nourishing the color. If your hair is blonde, shades are recommended.
Treatments such as straightening or permanent, on the other hand, also need care and this can be done with products that prolong the effect of the chemical while nourishing the root. See some examples:
Absolut Daymoist – With maximum emollient power and ultra-moisturizing action, Inoar Absolut Daymoist promotes intense conditioning and shine, recovers suppleness, restores and protects hair damaged by heat and prevents color fading.
CicatriFios Loiro Perfeito – The Cicatrifios Loiro Perfeito line works to correct the yellowing of the strands, from the first use. Its exclusive formula with Rejucomplex3, Centaurea Cyanus and Azulene (botanical ingredients with purple pigments) and balanced pH eliminates the devitalized aspect, reinforces the tone of the strands and deeply hydrates, leaving the hair color uniform and with intense shine with each use.
Now that you know how to take care of your hair, the time has come to have the right products for hydrated, silky and shiny strands.
Did you like our content? Then follow our social networks and stay on top of all the news from INOAR!