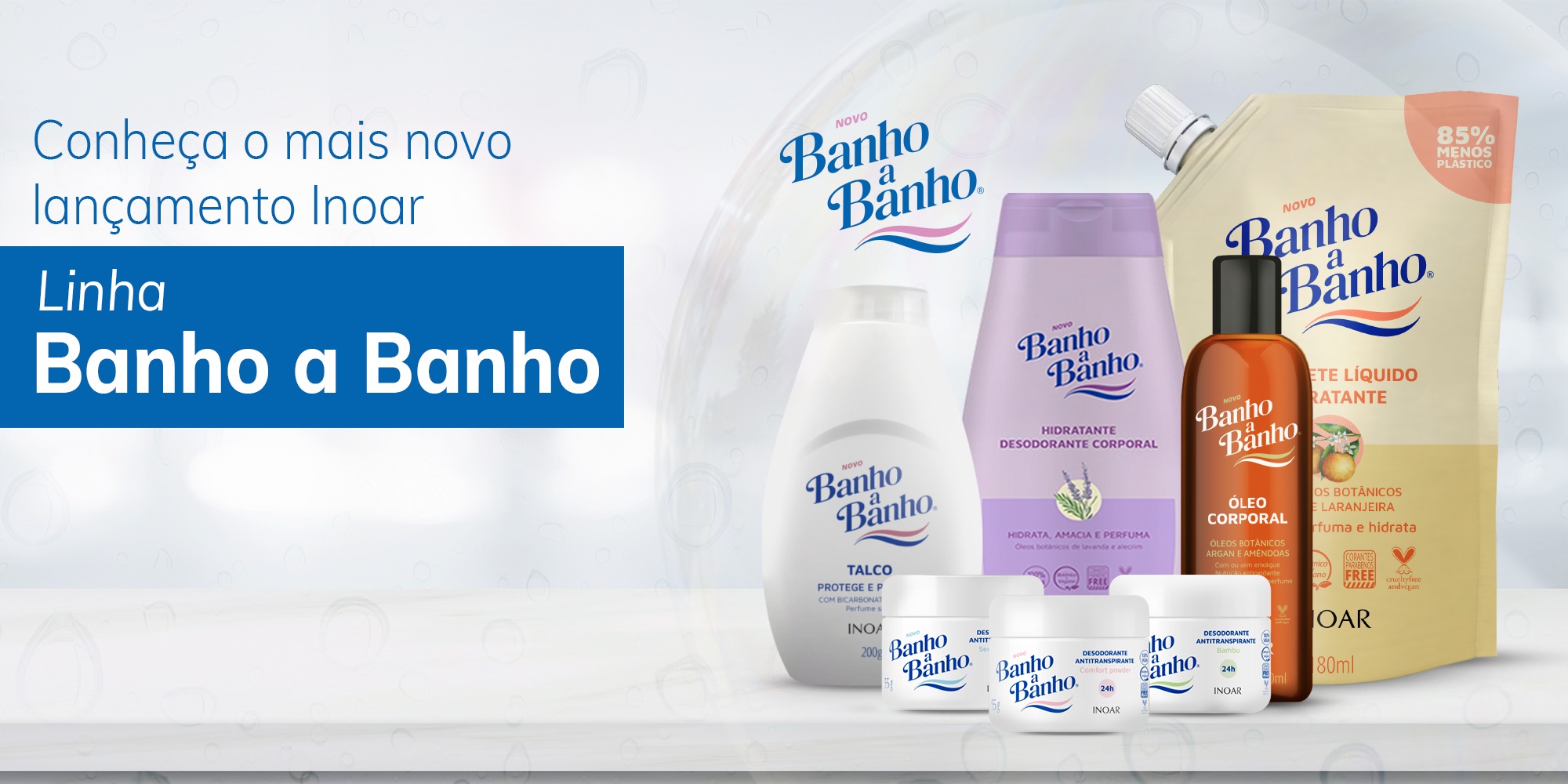 Bath to Bath Line: discover the newest Inoar launch
A connection from the past to the future. The Bath to Bath line by Inoar rescues iconic products with high-performance vegan formulations in personal hygiene products for a moment of self-care.

Inoar Cosméticos acquired the Banho a Banho brand in 2021 in an investment of R$12 million in the new line.

Bath to Bath is now part of Inoar's portfolio and the official launch took place on January 15, 2022.

The moment of self-care is all yours and deserves attention. Therefore, the new Inoar Cosméticos line symbolizes this moment, bringing it to its best shape.

Learn more about Inoar's Bath to Bath Line
Body hygiene deserves care and, for that, quality products capable of providing a series of benefits are essential for this moment.

Discover the products that are part of Inoar's Bath to Bath Line:

Baby powder
Inoar's Bath-to-Bath Talc offers protection and freshness by controlling moisture and keeping the skin comfortable, dry, soft and fragrant from one bath to the next. Its technology and vegan formula, without ingredients of animal origin and without animal testing, combines a mild perfume with baking soda, neutralizing odors.

Body moisturizer
The moisturizer provides freshness and softness protection with botanical oils of lavender and rosemary. deodorizes and deeply moisturizes for a day to day with more protection. Its ingredients rebalance the skin's natural barrier and also act on the feelings, bringing relaxation to your moment of self-care.

Body oil
Bath to Bath body oil has an exclusive formula with vegetable oils that penetrate deeply into the skin to leave it nourished, hydrated, soft and fragrant. Its ingredients have antioxidant, regenerating power and rapid absorption, leaving the skin velvety from one bath to the next. It can be used on damp skin and does not need to be rinsed off.

Liquid soap
Developed with botanical oils and 100% vegan ingredients, Bath to Bath liquid soap cleans, perfumes and moisturizes the skin, keeping it fresh from one bath to the next. Its formulation is moisturizing and can be used several times a day. Its packaging is sustainable and uses 85% less plastic, producing less waste when discarded.

antiperspirant deodorant
The Inoar Bath Line has antiperspirant deodorants in the following formats: Cream and Roll-on. Its fragrances were developed to meet all needs, such as: Comfort Poder, Bamboo or without perfume.

Antiperspirants act against the microorganisms responsible for the odor of perspiration, providing confidence and comfort from one shower to the next. Its technology and vegan formula, combines the action of sodium bicarbonate with natural ingredients for maximum safety throughout the day.

It is worth remembering that the entire Banho a Banho de Inoar line is Cruelty free & vegan, without animal origin and without animal testing.

Now you can have your moment of self-care, ensuring a much more comfortable day to day.