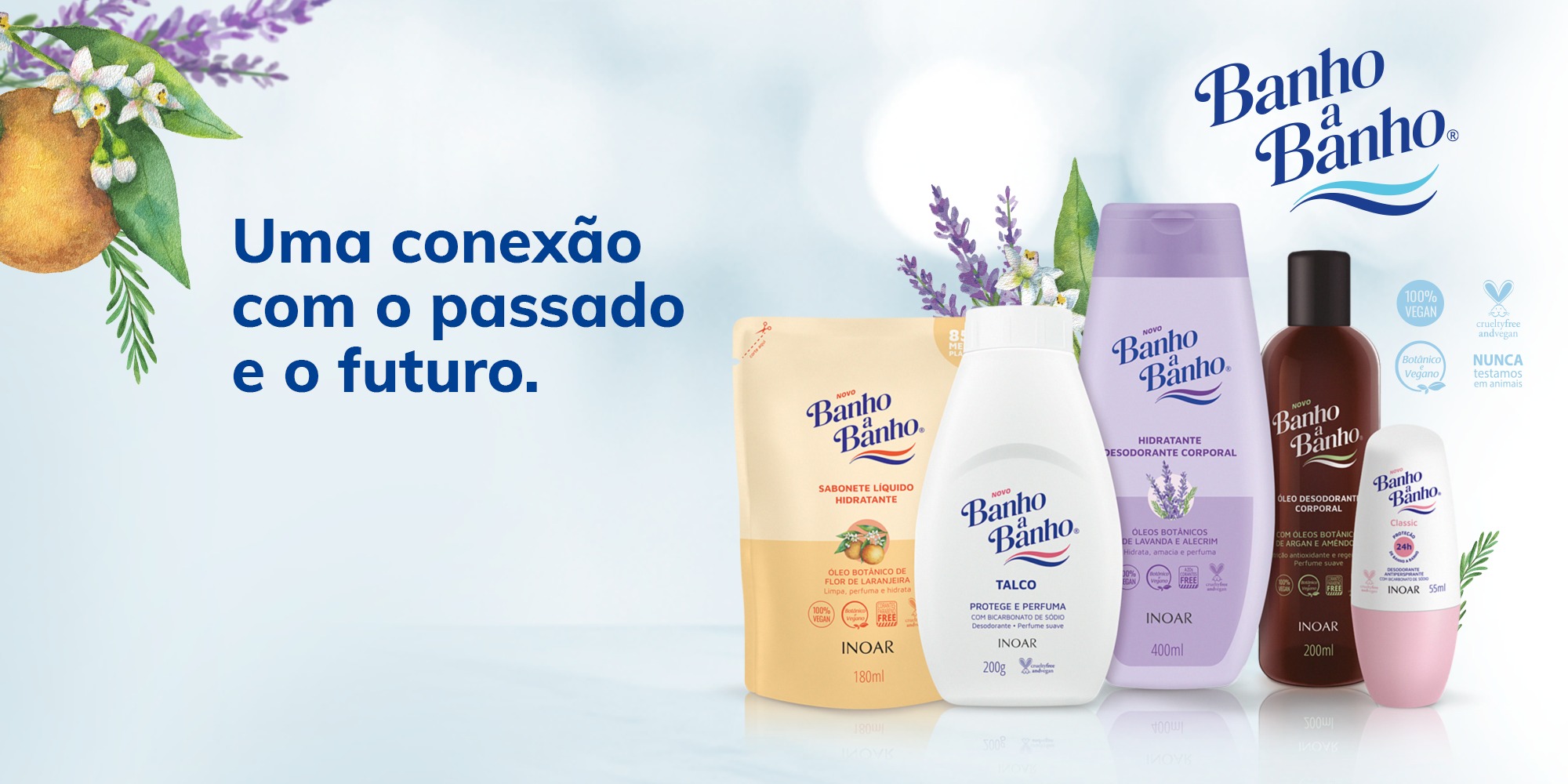 Inoar Cosméticos' Bath-to-Bath Line arrives on the shelves
In this first stage, six products will be available in drugstores, perfumeries and in the brand's e-commerce

São Paulo, January 2021 - Bath to Bath products from Inoar Cosméticos, a Brazilian industry with 100% national capital, will be available on the shelves of drugstores and perfumeries, in addition to the brand's e-commerce, starting in February. In this first phase, will be sold: Talc, Body Oil, Liquid Soap in three versions, Moisturizing Lotion, Deodorant Cream and Roll-on Deodorant, all with original fragrances of the product, seeking the memory of the brand in its essence.

"Like all Inoar products, the new Bath to Bath line is 100% vegan, with no ingredients of animal origin and no animal testing, and has all the cutting edge technology developed by the industry. In addition, we believe in the brand's potential. for referring to well-being, self-care and which triggers positive memories, of coziness, of the home of his childhood. All this, of course, combined with new formulas, which bring the most current and safe in terms of personal hygiene care ", says Inocência Manoel, founding partner of Inoar Cosméticos.

Packaging

One of the novelties of the Bath to Bath line by Inoar Cosméticos is that the liquid soap packaging will have 85% less plastic than traditional packaging, that is, it will be more sustainable.

"We are trying to reformulate our packaging and we will start with the liquid soap of the new line. We want to find the best balance between practicality and sustainability to offer not only the best products for our customers, but also something that impacts less and less on the environment", he reinforces. Inocência Manoel, founding partner of Inoar Cosméticos.



About Inoar

Inoar — A Brazilian reference company in the national and international market, Inoar Cosméticos has in its DNA the essence of its founders: the creation of innovative products through the unique perspective of Inocência Manoel, Marketing and Creative Director, and the management of Alexandre's business. Nascimento Manoel Aroza makes Inoar a cosmetics brand inspired by different types of people, with innovation, cutting-edge technology and the know-how of those who understand the needs of professionals and end consumers. It has more than 370 products in its portfolio, including shampoos, conditioners, masks and hair treatment ampoules, oils, leave-ins, fixation sprays, nail sprays, professional treatments, coloring, toning, hydrogen peroxide, bleaching powder and now the products bodily.