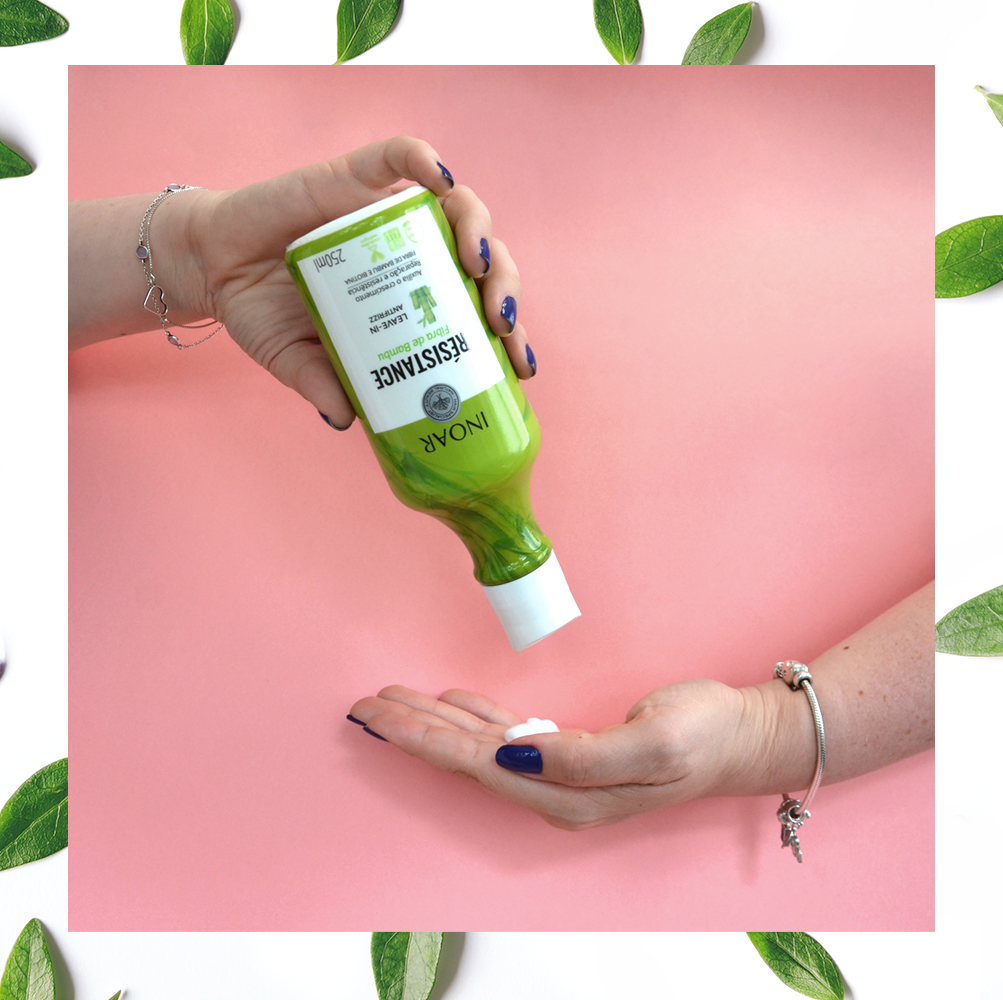 Toda cacheada sabe la importancia de los productos para la finalización de sus hilos. Y algunos están entre los queridos para un racimo definido y poderoso. Este es el caso de la crema de peine y del leave-in. Pero pocos entienden sus particularidades.
Es común asociar el uso de una crema para peinar con el cabello rizado. Esto sucede porque este tipo de curvatura suele necesitar algún producto para facilitar el desencadenamiento de los hilos. Pero esta no es la única función del uso de este producto. También ayuda, principalmente si se alía al leave-in y activador de racimos, la alineación y definición de los hilos. Por eso, el ítem suele estar en los estantes de ondulados, rizados y crespas.
Así, la crema de peine se muestra como un gran aliado a la hora de definir los racimos. Por ser más resecados, debido a que la oleosidad tiene más dificultad para llegar a las puntas de los cabellos, los hilos necesitan productos que devuelvan esa nutrición, quedando más definidos.
En algunos casos, la crema de peine no es capaz de alinear los hilos como es tan deseado. Así, en el intento de domar el frizz de los cabellos, a veces, estamos tentados a dejar un poquito de máscara o de acondicionador incluso después del enjuague. Recordemos que esta no es la elección más acertada, pues algunos componentes e incluso pH de esos productos no prevean que se queden sobre los hilos por más de 30 minutos.
Para estos casos, en los que la deshidratación y el frizz persisten incluso después del tratamiento o que es necesaria una ayuda extra para modelar los hilos, se utiliza el leave-in. Si su cabello sólo necesita hidratación, puede utilizar líneas tradicionales y Inoar trae muchas opciones para usted, como las variaciones de la línea CicatriFios.
Pero si usted se da cuenta de que, además de la hidratación, necesita modelar o definir los rizos, la crema de peine Mi racimo, Mi crush es la mejor pedida. Esto es porque esta formulación contiene no sólo lo que hay de más moderno en agentes hidratantes, sino también un gel de racimos integrado a la fórmula de la crema, garantizando la definición de las curvaturas.
#DicaDeAmiga
Haga una mezcla con algunas gotas de la solución para la piel y el cabello Rejupantenol para aumentar el tiempo de definición de sus racimos. Dejándolos aún más brillantes y bonitos.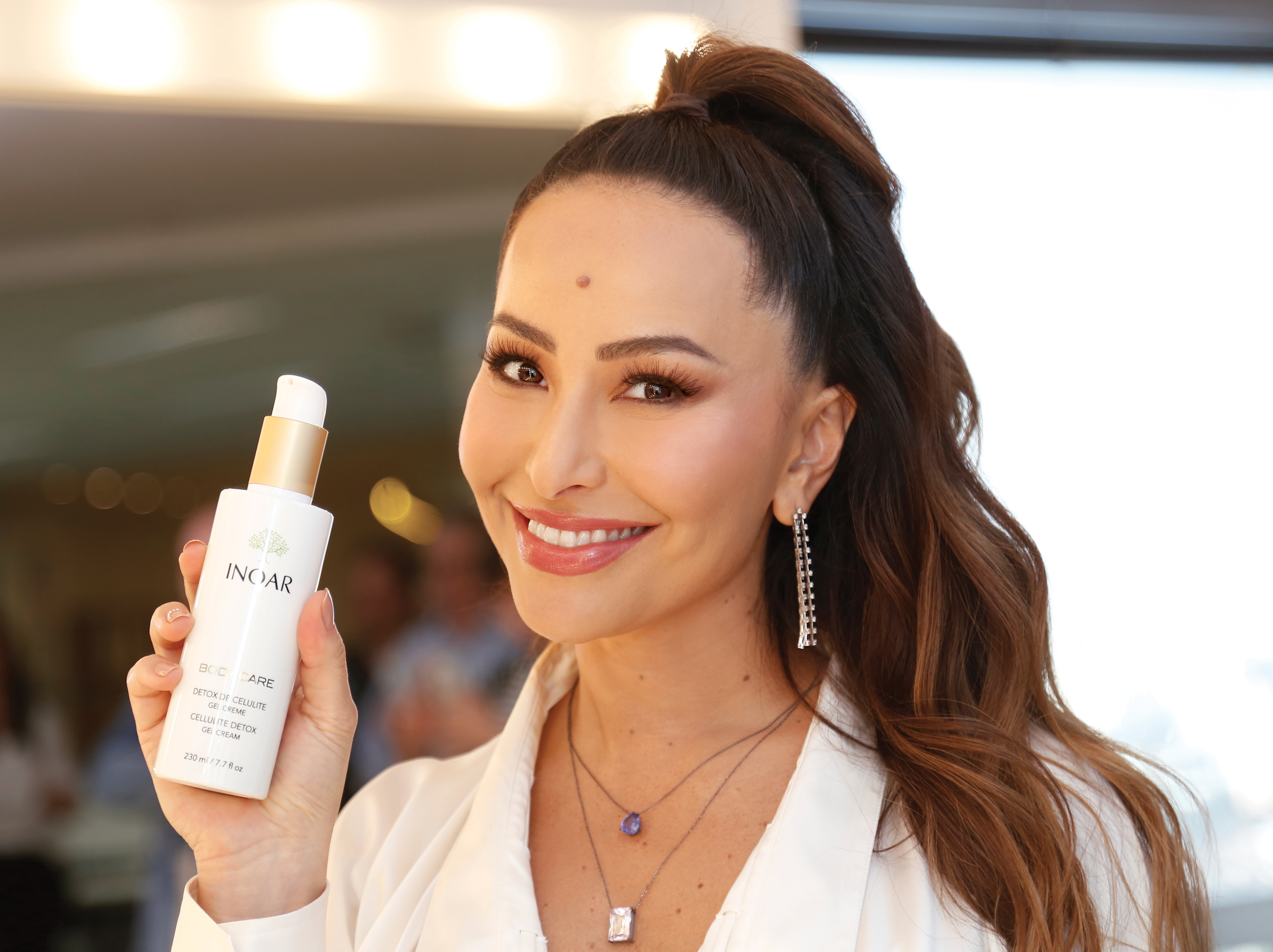 Inoar Cosméticos reference in cosmetics in the national and international market, has signed with presenter Sabrina Sato to be the new advertising girl of the Dermocosmetics line. The presenter will also sign kits with a selection of products, one especially for postpartum.
«Sabrina is multifaceted, nothing standardized. She is empowered, free, authentic and has a charming beauty, not to mention her contagious energy. It has synergy with our brand and everything it represents. We launched the line last September at Beauty Fair, but only now we decided to choose a face to represent our line «, says Innocence Manoel, founder and Director of Creation and Marketing of Inoar Cosmetics.
Inoar's line of Dermocosmetics is composed of 13 products for face and body care. Are they:
Face Care Thermal Water 120ml
Rich in soothing actives, it returns essential elements to the beauty of the skin, replenishes trace elements, refreshes and fixes makeup. Main benefits: stimulates blood microcirculation, antioxidant. Contains the assets of: orange flower water, argan, grape seed oil, lily extracts, mint, lemon balm, rosemary, lavender and melaleuca
Body Care Moisturizing Cream for Hands 50ml
Formulated especially for hand relief, with highly moisturizing Argan oil, it repairs and restores the skin's natural protective barrier. For normal to dry skin. Main benefits: immediate reversal of dryness. Contains active hyaluronic acid, Argan oil and RejuComplex3.
Whitening Cream Clinical 30g
Formulated with Kojic and Phyhellic acids, concentrated extract of Chinese Ginger and RejuComplex3, actives that accelerate cell renewal using endogenous mechanisms of epidermal differentiation. Lightens and evenens the skin tone, leaving it free of blemishes and brighter. It acts on the formation of melanin, inhibiting tyrosinase, the cellular division of melanocytes and the keratinocyte melanocyte communication. In the already formed melanin, it inhibits its darkening. In eliminating melanin, facilitating the removal of hyperpigmented cells. Main benefits: combats hyperpigmentation, avoids new blemishes.
Clinical Anti-Age Eye Cream 28g
Signs of aging are usually more evident around the eyes. Anti-Age Eyes Inoar is a three-dimensional treatment based on a synergistic and special combination of active botanicals and peptides that will help combat the main signs of fatigue and aging of the eyes: dark circles, bags, wrinkles and fine lines of expression. Key benefits: Instantaneous absorption, 3D effect.
Gel Detox Body Care for Cellulite 230ml
Formulated with microencapsulated caffeine, descaling that helps the natural cell-burning process of fat. Anti-inflammatory actives fight the fibrosis processes against the orange peel effect. RejuComplex3 improves the overall appearance of the skin. Main benefits: deep action, improves skin appearance, normalizes skin relief.
Face Care Facial Moisturizer for Oily Skin 50g
Light, fluid, concentrated, fast absorption formulation. Inoar Face Moisturizer – Oily to Combination Skin – returns the natural moisturizing of the skin, without excesses and with a formulation specially developed to repair this type of skin. Main benefits: Instantaneous transdermal absorption, immediate reversal of dryness, non-comedogenic. mild and non-irritant.
Face Care Facial Moisturizer for Normal to Dry Skin 50g
It repairs and restores the natural protective barrier of dry skin. Formulation fluid, concentrated, of fast absorption. Formulated with active ingredients that offer immediate reversal of dryness and improve overall appearance of the skin.
Key benefits: instant transdermal absorption, immediate reversal of dryness. Contains the active RejuComplex3, Hyaluronic Acid and Ceramides.
Moisturizing Body Care Body 180g
Developed with argan, coconut and Hyaluronic Acid oils, antioxidants and moisturizers, it quickly penetrates the epidermis into the dermis. The unique RejuComplex3 active provides immediate reversal of dryness and improves the overall appearance of the skin. Main benefits: Immediate dryness reversal.
Anti-Age Clinical Mask 28g
Active brokers penetrate quickly into the skin, rebuilding points of support of the face, returning youth and lust to the skin. Act in 20 minutes. Regular use stimulates the structural collagen of the face. Formulation fluid, concentrated, of fast absorption. Key Benefits: Instant Absorption, 3D Effect, Instant Fill, Fighting Under Eye Bags, Expression Wrinkles and Fine Lines.
Face Care Facial Tonic 230ml
Treats, refreshes and tones the skin after cleansing. Its formula contains ginger, a natural antioxidant that tones and stimulates cell regeneration, in addition to Inoar thermal water, with neutral and alkaline pH and purifying elements. Does not contain soap. Key Benefits: Clears pores, clarifying lotion, impurities free skin. Contains active ginger and zinc complex.
Facial Face Care Liquid Soap 230ml
Its formula contains active cleansers, natural extract of argan and RejuComplex 3, antioxidants that offer light moisturizing for all skin types. Main benefits: cleans deeply without harming the skin, leaves a protective barrier on the face; removes makeup, pollution residues and excess oiliness.
Kálice Multifunctional Oil 100ml
Kálice is a premium multifunctional line with vitamin E and 7 precious vegetable oils for hair, body and face: argan, myrrh, macadamia, ojon, sweet almonds, jasmine and rosemary. This special combination is moisturizing, nourishing, restorative, antioxidant, softening, protective and emollient, with light touch. Main benefits: Hair moisturizing, hair finishing, body moisturizing, mixed with makeup, make-up remover
Serum Anti-age Clinical 30ml
Serum Antioxidant Inoar promotes the reduction of wrinkles and fine lines, smoothes tone and texture of the skin, decongests clogged pores and helps correct the signs of aging. It has potent antioxidant actives that lodge on the surface of the skin protecting against free radicals and clarifying the skin. Regular use provides a light dermal surface. Key Benefits: Balances skin hydration, anti aging, triple anti-oxidant, high potency – the most effective barrier against free radicals. Contains active phytophanic acid, Chinese ginger and vitamin C.
About Inoar
Inoar Cosméticos, a Brazilian company that is a reference in the national and international market, brings in its DNA the essence of its founders: the creation of innovative products through the unique look of Innocence Manoel, Director of Marketing and Creation, and the management of Alexandre Nascimento's businesses. Inoar a brand of cosmetics inspired by various types of people, with innovation, cutting edge technology and the know-how of those who understands the needs of professionals and end consumers.