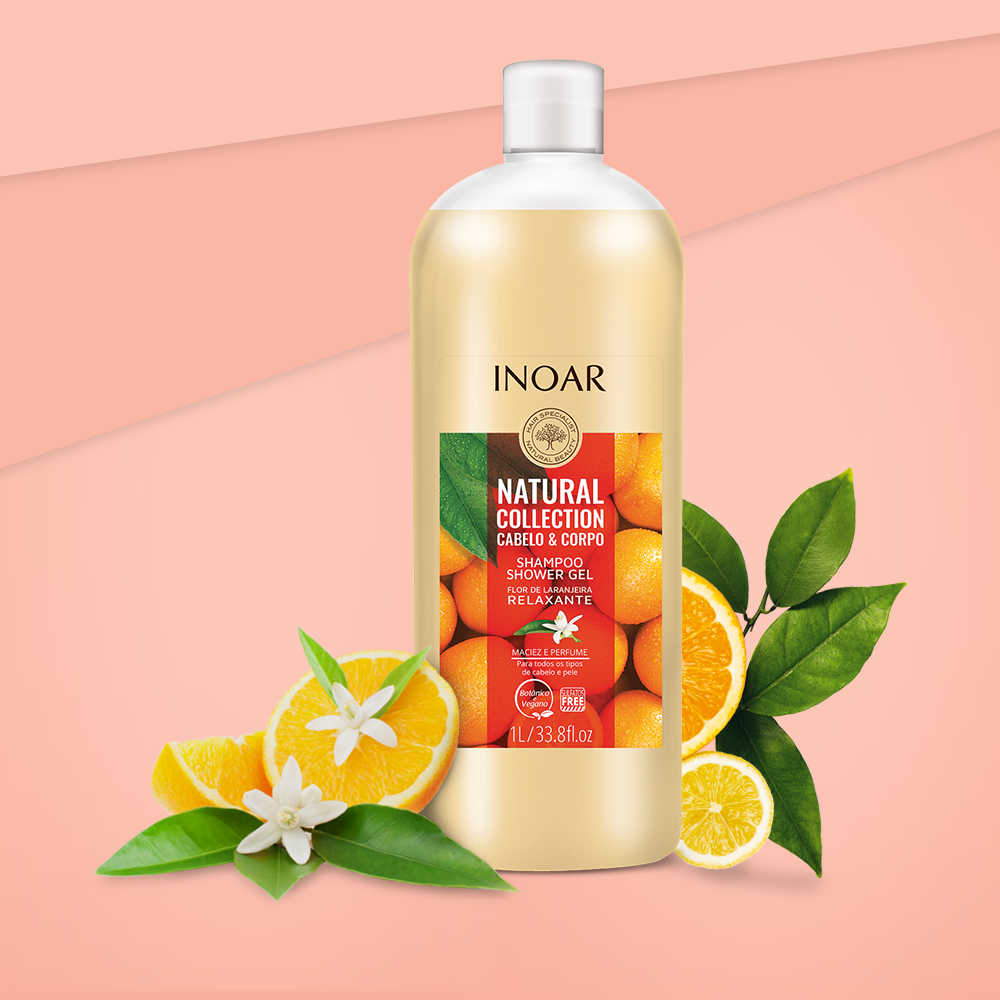 Los productos multifuncionales ganan cada día más espacio en nuestra rutina. La idea de disminuir la cantidad de artículos en su baño ha llevado a algunas personas a buscar con más frecuencia productos que se pueden utilizar de diversas maneras y son beneficiosos para diferentes partes del cuerpo.
Aunque la piel y el cabello tienen aspectos muy diferentes, la similitud entre las proteínas que componen las dos estructuras es grande. Por lo tanto, es seguro afirmar que los hidratantes que benefician la piel pueden muy bien favorecer los cabellos y viceversa, basta con utilizar la formulación apropiada.
Pensando en esta multifuncionalidad, Inoar creó una de estas formulaciones de coraje y desarrolló el Natural Collection Cabello y Cuerpo. Su espuma enriquecida con agentes hidratantes actúa como shampoo de limpieza media para los cabellos, pero también desempeña, muy bien, el papel de Gel Baño y Espuma de Depilación y Barba. Esto todo aliado a un perfume aromocológico (aramacología trae sensaciones positivas junto con el perfume que sentimos) que beneficia todo a su alrededor.
La marca anticipó la tendencia multifuncional con la línea Kálice. La línea con 7 aceites vegetales preciosos (jazmín, argan, mirra, macadamia, ojon, almendras dulces y romero) es capaz de proporcionar hidratación, nutrición, reparación y función antioxidante, suavizante, protectora y emoliente, con un toque suave y un aroma suave y suave exclusivo. Su aceite multifuncional puede ser utilizado en la piel y el cabello para diversas funciones: humectación de los cabellos, finalización de los hilos, hidratación del cuerpo, mezclado al maquillaje o primer y demaquilante.
Recientemente, el shampoo multifuncional Kálice fue elegido por los editores de la revista norteamericana Hola! como el mejor producto de la categoría The Most Diverse, recibiendo el sello Best In Beauty 2018. El champú va más allá de la limpieza y es capaz de hidratar, regenerar, ablandar y proteger todo tipo de cabello.
#DicaDeAmiga
Para hacer su baño un verdadero procedimiento de SPA, haga un té fuerte de albahaca, déjelo amolar y derriba sobre el cuerpo después del baño con Natural Collection Cabello y Cuerpo. La mezcla de los aromas del té y de la flor de naranjo presentes en el producto tienen todo que ver y te dejar con un perfume exclusivo y energizante.
Otra sugerencia es combinar la mascarilla y aceite multifuncional Kálice después del uso de Natural Collection Cabello y Cuerpo. Los perfumes se complementan y las funciones también. Principalmente, si sus hilos ya pasaron por química / decoloración.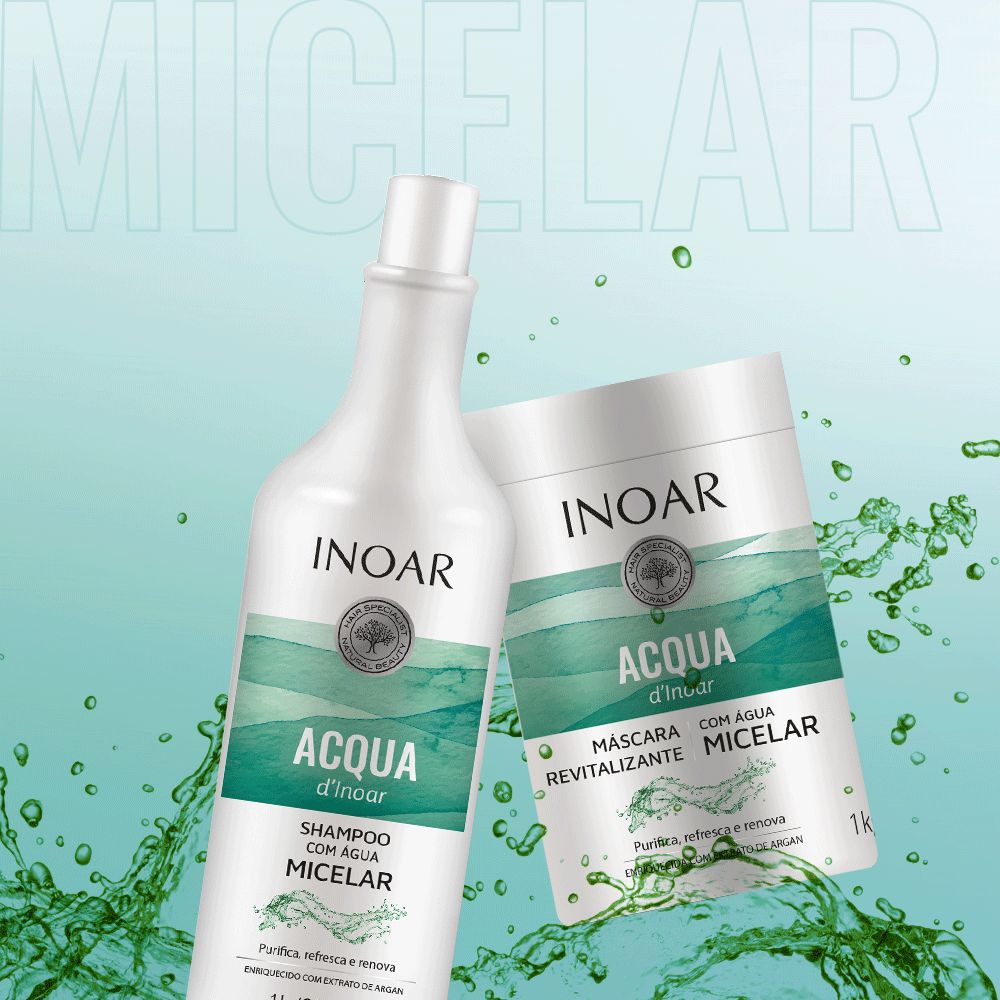 Surely, you've heard of micelles. Very well known for being in the skin cleansing routine, they now invade the hair cosmetics. Understand the reason for being considered the great trend of physiological cleansing.
Micelles act on most of the impurities of our daily life, such as pollution, waste of makeup, dust, smoke, oiliness, among others. All this without harming the structure they are sanitizing. In this way, they act on the skin of either the scalp or the face, protecting our physiology from the effect that most deep cleansing causes when the body resents the procedure and envisages the total removal of the natural oiliness as an aggression, responding with yet more sebum production – the so-called rebound effect.
From a chemical point of view, imagine the micelles as tiny spheres that suck in any particle of dirt that is on the skin and, as soon as they are supplied, stop acting. This system respects the natural components of the dermis. On the hair, it promotes global hygiene of the yarn without aggression to important structures, such as keratin cuticles and silky factors.
Understanding the role of micelles in our cleaning routine, Inoar has created, for its line of dermocosmetics, the Micellar Water. In this formulation, with triple filtered water, the micelles were associated with the infusion of Argan Extract. Aromatized naturally with Melaleuca Oil, the formulation is further enriched with a dermatological purification and renewal complex called RejuComplex3®, composed of Pantothenate, Niacinamide and Hyaluronic Acid. The charm of this product is due to its coloration achieved thanks to chlorophyll pigments.
And in that year, the brand decided to expand the beneficial effects to the hair cleaning routine for the hair. Inoar thus created the Acqua d'Inoar Micelar line. It is not enough to be enriched with physiological cleansing micelles, the entire aqueous base of this shampoo is composed of water enriched with minerals and moisturizing agents. After the rinse, it is possible to notice that the threads are free of residues, but without that sensation of bristly hair. The line is also composed by moisturizing mask, released for Low Poo and No Poo, with fresh herbal fragrance, but with remarkable Inoar signature.
After visualizing the effects of micelles on your cleansing routine, you will understand the importance of them in everyday life for healthy, well-treated skin and hair.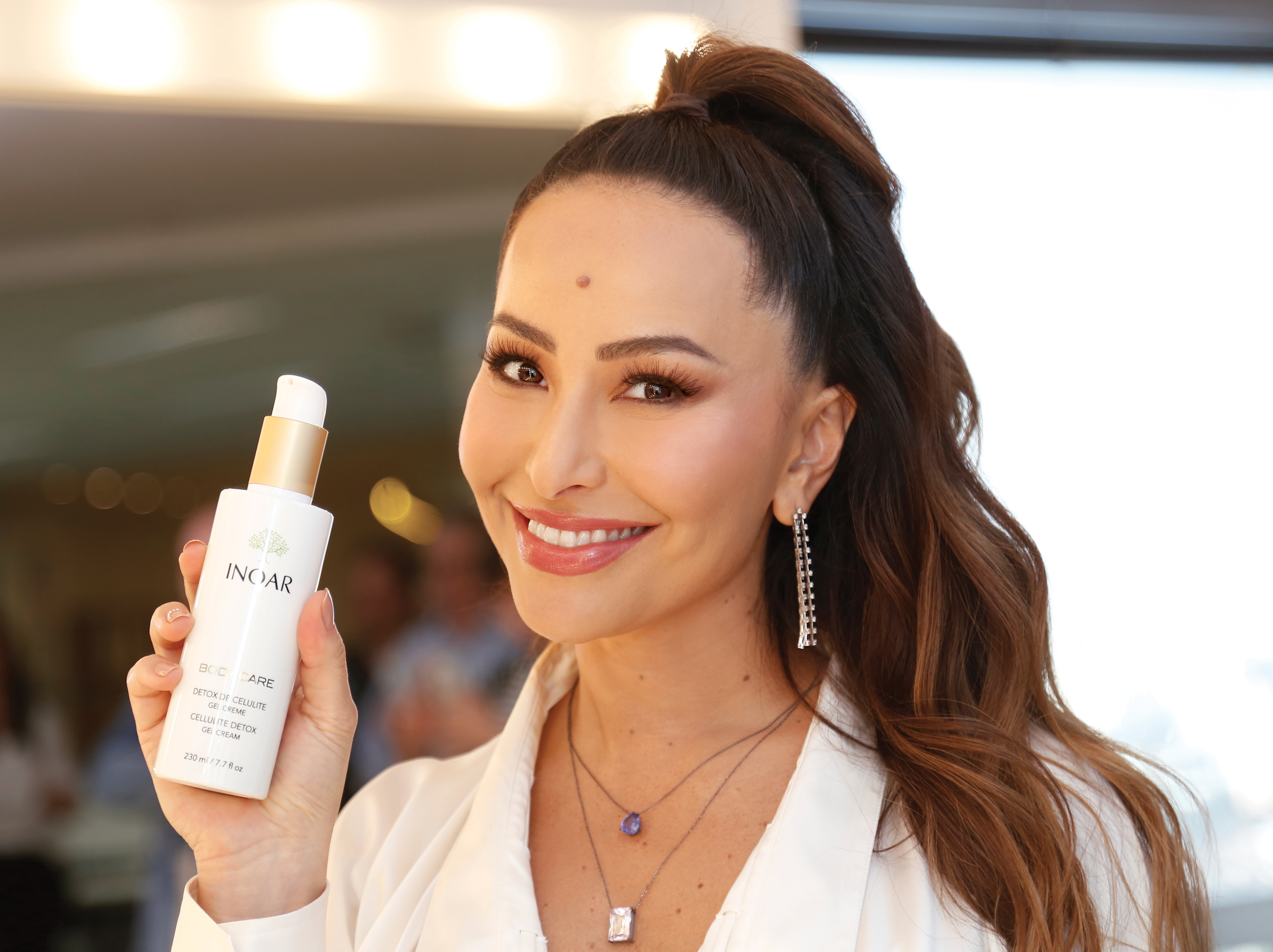 Inoar Cosméticos reference in cosmetics in the national and international market, has signed with presenter Sabrina Sato to be the new advertising girl of the Dermocosmetics line. The presenter will also sign kits with a selection of products, one especially for postpartum.
«Sabrina is multifaceted, nothing standardized. She is empowered, free, authentic and has a charming beauty, not to mention her contagious energy. It has synergy with our brand and everything it represents. We launched the line last September at Beauty Fair, but only now we decided to choose a face to represent our line «, says Innocence Manoel, founder and Director of Creation and Marketing of Inoar Cosmetics.
Inoar's line of Dermocosmetics is composed of 13 products for face and body care. Are they:
Face Care Thermal Water 120ml
Rich in soothing actives, it returns essential elements to the beauty of the skin, replenishes trace elements, refreshes and fixes makeup. Main benefits: stimulates blood microcirculation, antioxidant. Contains the assets of: orange flower water, argan, grape seed oil, lily extracts, mint, lemon balm, rosemary, lavender and melaleuca
Body Care Moisturizing Cream for Hands 50ml
Formulated especially for hand relief, with highly moisturizing Argan oil, it repairs and restores the skin's natural protective barrier. For normal to dry skin. Main benefits: immediate reversal of dryness. Contains active hyaluronic acid, Argan oil and RejuComplex3.
Whitening Cream Clinical 30g
Formulated with Kojic and Phyhellic acids, concentrated extract of Chinese Ginger and RejuComplex3, actives that accelerate cell renewal using endogenous mechanisms of epidermal differentiation. Lightens and evenens the skin tone, leaving it free of blemishes and brighter. It acts on the formation of melanin, inhibiting tyrosinase, the cellular division of melanocytes and the keratinocyte melanocyte communication. In the already formed melanin, it inhibits its darkening. In eliminating melanin, facilitating the removal of hyperpigmented cells. Main benefits: combats hyperpigmentation, avoids new blemishes.
Clinical Anti-Age Eye Cream 28g
Signs of aging are usually more evident around the eyes. Anti-Age Eyes Inoar is a three-dimensional treatment based on a synergistic and special combination of active botanicals and peptides that will help combat the main signs of fatigue and aging of the eyes: dark circles, bags, wrinkles and fine lines of expression. Key benefits: Instantaneous absorption, 3D effect.
Gel Detox Body Care for Cellulite 230ml
Formulated with microencapsulated caffeine, descaling that helps the natural cell-burning process of fat. Anti-inflammatory actives fight the fibrosis processes against the orange peel effect. RejuComplex3 improves the overall appearance of the skin. Main benefits: deep action, improves skin appearance, normalizes skin relief.
Face Care Facial Moisturizer for Oily Skin 50g
Light, fluid, concentrated, fast absorption formulation. Inoar Face Moisturizer – Oily to Combination Skin – returns the natural moisturizing of the skin, without excesses and with a formulation specially developed to repair this type of skin. Main benefits: Instantaneous transdermal absorption, immediate reversal of dryness, non-comedogenic. mild and non-irritant.
Face Care Facial Moisturizer for Normal to Dry Skin 50g
It repairs and restores the natural protective barrier of dry skin. Formulation fluid, concentrated, of fast absorption. Formulated with active ingredients that offer immediate reversal of dryness and improve overall appearance of the skin.
Key benefits: instant transdermal absorption, immediate reversal of dryness. Contains the active RejuComplex3, Hyaluronic Acid and Ceramides.
Moisturizing Body Care Body 180g
Developed with argan, coconut and Hyaluronic Acid oils, antioxidants and moisturizers, it quickly penetrates the epidermis into the dermis. The unique RejuComplex3 active provides immediate reversal of dryness and improves the overall appearance of the skin. Main benefits: Immediate dryness reversal.
Anti-Age Clinical Mask 28g
Active brokers penetrate quickly into the skin, rebuilding points of support of the face, returning youth and lust to the skin. Act in 20 minutes. Regular use stimulates the structural collagen of the face. Formulation fluid, concentrated, of fast absorption. Key Benefits: Instant Absorption, 3D Effect, Instant Fill, Fighting Under Eye Bags, Expression Wrinkles and Fine Lines.
Face Care Facial Tonic 230ml
Treats, refreshes and tones the skin after cleansing. Its formula contains ginger, a natural antioxidant that tones and stimulates cell regeneration, in addition to Inoar thermal water, with neutral and alkaline pH and purifying elements. Does not contain soap. Key Benefits: Clears pores, clarifying lotion, impurities free skin. Contains active ginger and zinc complex.
Facial Face Care Liquid Soap 230ml
Its formula contains active cleansers, natural extract of argan and RejuComplex 3, antioxidants that offer light moisturizing for all skin types. Main benefits: cleans deeply without harming the skin, leaves a protective barrier on the face; removes makeup, pollution residues and excess oiliness.
Kálice Multifunctional Oil 100ml
Kálice is a premium multifunctional line with vitamin E and 7 precious vegetable oils for hair, body and face: argan, myrrh, macadamia, ojon, sweet almonds, jasmine and rosemary. This special combination is moisturizing, nourishing, restorative, antioxidant, softening, protective and emollient, with light touch. Main benefits: Hair moisturizing, hair finishing, body moisturizing, mixed with makeup, make-up remover
Serum Anti-age Clinical 30ml
Serum Antioxidant Inoar promotes the reduction of wrinkles and fine lines, smoothes tone and texture of the skin, decongests clogged pores and helps correct the signs of aging. It has potent antioxidant actives that lodge on the surface of the skin protecting against free radicals and clarifying the skin. Regular use provides a light dermal surface. Key Benefits: Balances skin hydration, anti aging, triple anti-oxidant, high potency – the most effective barrier against free radicals. Contains active phytophanic acid, Chinese ginger and vitamin C.
About Inoar
Inoar Cosméticos, a Brazilian company that is a reference in the national and international market, brings in its DNA the essence of its founders: the creation of innovative products through the unique look of Innocence Manoel, Director of Marketing and Creation, and the management of Alexandre Nascimento's businesses. Inoar a brand of cosmetics inspired by various types of people, with innovation, cutting edge technology and the know-how of those who understands the needs of professionals and end consumers.