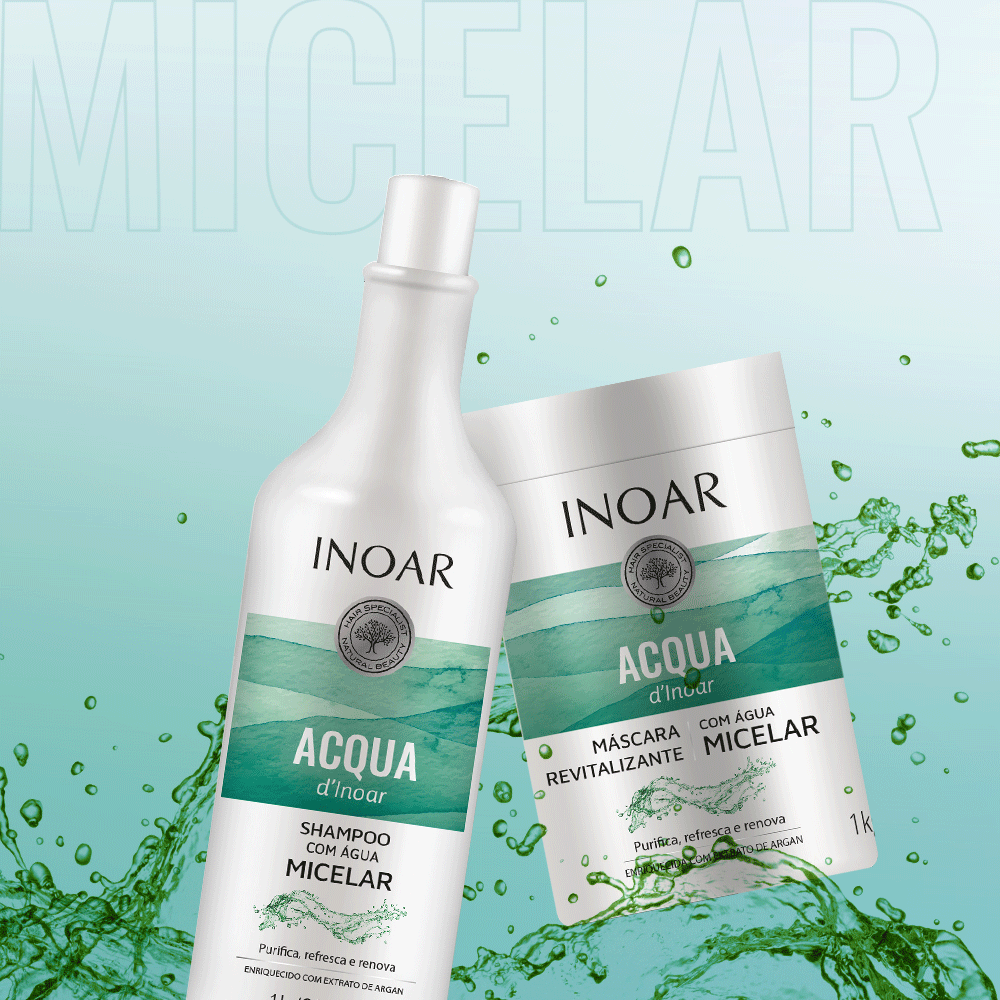 Surely, you've heard of micelles. Very well known for being in the skin cleansing routine, they now invade the hair cosmetics. Understand the reason for being considered the great trend of physiological cleansing.
Micelles act on most of the impurities of our daily life, such as pollution, waste of makeup, dust, smoke, oiliness, among others. All this without harming the structure they are sanitizing. In this way, they act on the skin of either the scalp or the face, protecting our physiology from the effect that most deep cleansing causes when the body resents the procedure and envisages the total removal of the natural oiliness as an aggression, responding with yet more sebum production – the so-called rebound effect.
From a chemical point of view, imagine the micelles as tiny spheres that suck in any particle of dirt that is on the skin and, as soon as they are supplied, stop acting. This system respects the natural components of the dermis. On the hair, it promotes global hygiene of the yarn without aggression to important structures, such as keratin cuticles and silky factors.
Understanding the role of micelles in our cleaning routine, Inoar has created, for its line of dermocosmetics, the Micellar Water. In this formulation, with triple filtered water, the micelles were associated with the infusion of Argan Extract. Aromatized naturally with Melaleuca Oil, the formulation is further enriched with a dermatological purification and renewal complex called RejuComplex3®, composed of Pantothenate, Niacinamide and Hyaluronic Acid. The charm of this product is due to its coloration achieved thanks to chlorophyll pigments.
And in that year, the brand decided to expand the beneficial effects to the hair cleaning routine for the hair. Inoar thus created the Acqua d'Inoar Micelar line. It is not enough to be enriched with physiological cleansing micelles, the entire aqueous base of this shampoo is composed of water enriched with minerals and moisturizing agents. After the rinse, it is possible to notice that the threads are free of residues, but without that sensation of bristly hair. The line is also composed by moisturizing mask, released for Low Poo and No Poo, with fresh herbal fragrance, but with remarkable Inoar signature.
After visualizing the effects of micelles on your cleansing routine, you will understand the importance of them in everyday life for healthy, well-treated skin and hair.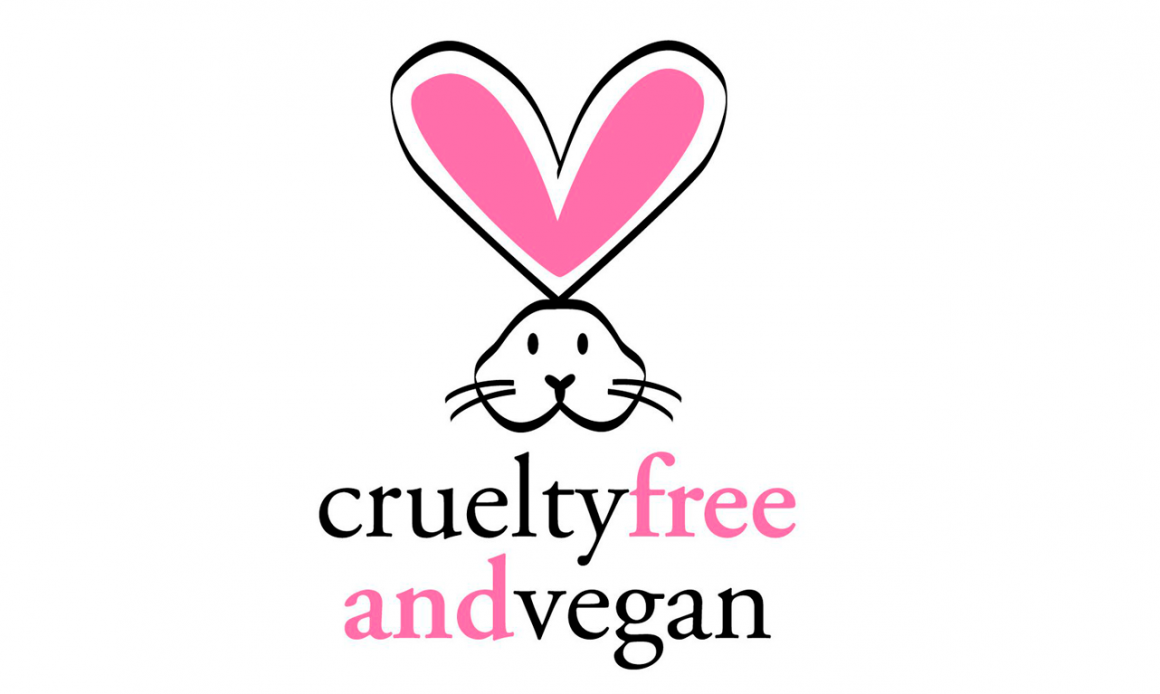 Inoar has three pillars that guide all development work and the relationships between employees, suppliers and consumers:
Respect for the individual
Respect for the environment
Respect for animals
With that in mind, we have developed our entire hair and vegan line of dermocosmetics.
But what are vegan cosmetics?
Vegan cosmetics are those that do not contain ingredients of animal origin and that are not tested on animals.
Since tests are not done, how do they do it? How to replace animals with vegetables?
Tests are performed on humans. These are clinical tests that are regulated and accepted by Anvisa.
The substitution of animals for vegetables is given for the ingredients. Some ingredients of animal origin are replaced by vegetable origin. For example keratin, which is of animal origin (extracted from sheep wool, bird feathers, horns or oxen hooves), but may have vegetable origin (obtained from rice, soybeans, wheat or corn).
Is Inoar Vegan?
Inoar has vegan products, but is not considered a vegan company. We share the principle of respect for life and do not tolerate abuses against animals.
Are Vegan Cosmetics the Same as Non-Vegans?
The ingredients of plant origin have a much higher performance.
Where do the products used in Inoar products come from?
We do not use ingredients of animal origin in our shampoos, conditioners, masks and oils.
The technical urea applied in our formulations is a byproduct of the refinement of the chemical industry.
We have standardized a blend of synthetic peptides whose aminogram accurately reproduces the molecular composition of Whey Protein. Thus, our efforts in technology allow us to have all the benefits of this protein of very high biological value without exploring any form of animal life.
Hydrolyzed Keratin: The term hydrolysis refers to the fact that the original protein chain undergoes pH manipulations and enzymatic actions to be broken down and transformed into its most elemental form, the amino acids. This blend of monoamines has nutritional value equivalent to the original protei
Where are the ingredients extracted from?
It depends. For example, we sometimes opt for a soy base because it contains isoflavones that strengthen the health of the scalp. Rice acids favor some types of hair, wheat proteins recompose damaged yarns and so on.
The amino acids used are quaternary monoamines generally obtained from urea and carbon sources such as corn maltodextrins, for example.
How should the names of the ingredients appear on the packaging?
ANVISA legislation recommends that we list the ingredients in the format "INCI Name" which is in fact a huge inventory containing 12 thousand more components, but does not even provide specifications for customized laboratory procedures, such as the synthetic obtaining of proteins.
What are Inoar's vegan products?
We do not use any animal ingredients and do no animal testing. The only exception is the color in a tube, but it is also not tested on animals. All our shampoos, conditioners, masks, oils, etc. formulas. has been adjusted in recent months to strictly meet the requirements of vegan products and you can find the PETA seal on our packaging. If you still have questions (as there may be products with old packaging), you can contact us directly informing you the status of our production.
What is PETA?
PETA, the People's Association for the Ethical Treatment of Animals, is a non-governmental organization founded in 1980, which has more than 2 million members and is dedicated to animal rights.
It has as its motto: "Animals are not ours to eat, dress, use in experiments or for entertainment."
The organization is engaged in the cause of protecting animals from all acts of unnecessary and abusive human exploitation. It applies relentless pressure on large-scale companies that conduct animal research to expose their inhumane laboratory practices.
Inoar proudly is on the PETA list of companies that do not test on animals.
What is the PETA seal for?
The PETA seal is an independent seal that confirms the philosophy and vegan care of a company or social entity. The NGO has a very strong role in the cause, and is always attentive, reporting maltreatment and pointing out who respects the animals.
In addition, Inoar relies on the strength and confidence of its consumers for almost 20 years. The vegan philosophy goes far beyond any graphic element that can be included in a label, since it is a way of existing considering that every living thing feels everything we feel and has the same rights as us.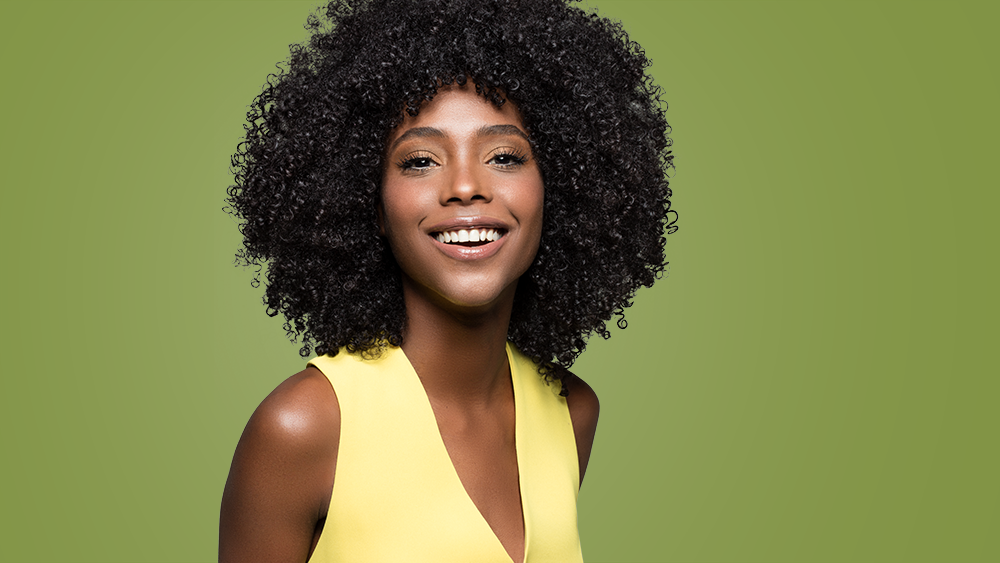 It all started with a book. American hairdresser Lorraine Massey described in her book, Curly Girl, some treatment techniques that prioritize the use not only of milder cleansing agents but also of substances that treat hair completely without masking the health of curly wires.
Then came the terms:
LOW POO (little shampoo)
NO POO (without shampoo)
CO WASH (wash with conditioner)
Explaining the techniques
LOW POO
Low Poo comes from English and means "little shampoo," which indicates that the technique preaches the reduction of the use of strong and aggressive cleansing agents, allowing the wire to "breathe" and recover from aggressions.
In the Low Poo technique there are two important things to keep in mind: cut strong sulfate from your shampoos, ie exchange shampoos that have sulfate free sulfate shampoos. Note that they are not salt-free shampoos, because salt-free shampoos mostly have other sulfates than ordinary salt. And the second provision is to cut off the use of petroleum derivatives in general.
To summarize: LOW POO: wash the hair with products without sulfates and without petroleum derivatives.
No POO
Also of English, the term means "without shampoo". It is a method of washing the hair that does not require the use of shampoo. To adhere to this process, it is also necessary to eliminate the use of all water-insoluble products that stick to the hair strands and require the sulphate to be removed, such as insoluble silicones, mineral oil and paraffin.
In the No Poo method, shampoo is not used because the products used have only water-soluble substances, so other cosmetics such as the conditioner can remove them.
In short: NO POO: wash without shampoo.
CO-WASH
When a person is a No Poo fan, she does not use shampoo for hair washing. That's why No Poo is often associated with Co-Wash, which means "washing with conditioner." Sulfates, found in the vast majority of shampoos, are cleaning and foaming agents. However, in addition to removing the dirt from the threads, they also remove the natural oils and lipids from the hair. It was because of these damages that Co-Wash came into being, with products that do not contain unwanted elements such as sulfates, petroleum derivatives, mineral oils, Vaseline, liquid paraffin or insoluble silicones.
Summarizing: CO-WASH: wash your hair with conditioners without sulfates, without petrolatums, without mineral oils, petroleum jelly, liquid paraffin or insoluble silicones.
Components to avoid:
– Sulphates: they attack and dry the threads by opening the cuticles of the hair.
Sodium laureth sulfate (sodium lauryl ether sulfate – SLES)
Sodium lauryl sulfate (sodium lauryl sulfate – SLS)
Ammonium Lauryl Ether Sulfate (ALES)
Ammonium lauryl sulfate (ALS)
– Insoluble silicones: accumulate in the wires preventing other substances from being absorbed.
Amodimethicone (alone)
Cetearyl methicone
Cetyl Dimethicone
Cyclomethicone
Cyclopentasiloxane
Dimethicone (present in most cosmetics)
Dimethiconol
Stearyl Dimethicone
Trimethylsilylamodimethicone
Simethicone
Polydimethylsiloxane
Methicone
– Petroleum Derivatives: impregnates the wires causing a waterproof film that prevents hair from absorbing nutrients from other creams and oils.
Petrolatum / petrolatum
Mineral oil
Parafinum liquid